At the end of last year my good friend
Rob at Redwood Photography
suggested recording some videos in the shop of musicians. This is firmly in my territory as I am also a musician in a duo called
Barricades Rise
and all my studies were in music. Useful. Of course I said yes and then Rob went away and refined his idea. The refinement brought along another fellow friend
Richard Harrison
who I met on Twitter a few years ago. Rich is passionate about local music, underground music, and basically
shoves his oar in everywhere
, plus is really handy to press record on a stationary camera. With the wonder team together (and me tagging along) we had a list of artists we wanted to work with. A half day run through with my own band at Robs house was an OK effort and smoothed out six dozen problems, ready to start with the real talent.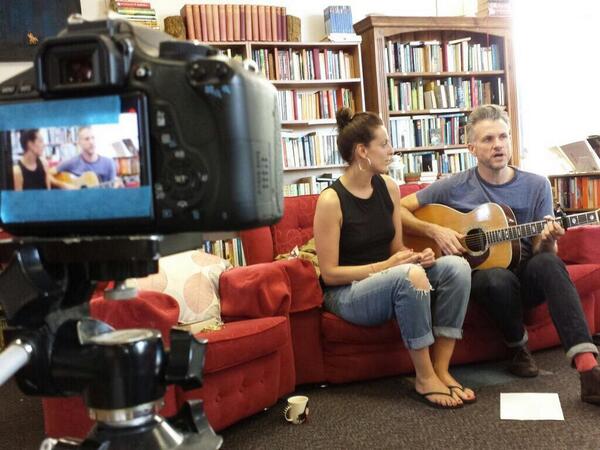 The major problem was of course venue. My shop opens September 27th so instead of waiting so long, we approached
The Tree House Bookshop
in Kenilworth and Victoria very graciously housed us.
In early April,
Wes Finch
, a local folk singer-songwriter, took the plunge first. I've known Wes a few years through the gigging circuit and he's such a down to Earth gent. The idea was to ask a few questions about books, then play a song. The whole thing was really relaxed. Wes then decided to play a cover too so we ended up getting that down as well which led to The Comfy Cover, where now each act will record a cover too. You can see all the ones recorded so far at
www.bigcomfysessions.com
.
Here is Wes with his own song Ring on the Riverbed.
We followed that up with the trio
Speak, Brother
. I had to turn up, record an interview, then leave within 15 minutes due to my own gig so didn't hear the actual song, but I love what Rob and Rich have captured. As it's early days, the interview was a tad too long so Rob cut it, a wise choice I think. We're still working things out with format, but listen to this anyway!
With two local acts under our belt we aimed further afield and were actually swamped! With the initial idea of 1 act per 6-8 weeks we ended up recording 2 acts in 2 weeks and have 2 more lined up next week. Last weekend saw
Chains
travel to Kenilworth from London to film for us. This duo are blindingly fabulous and have received hundreds of
thousands of YouTube hits
for their weekly cover songs. Their video's will appear online next month.
Rob, Rich and I are over the moon with the response from the public and the calibre of bands requesting to film. One act lined up is International! A vary big thank you to Victoria at The Tree House Bookshop for her hospitality, and to all who have popped in to say hi (and buy a book) whilst we're recording.
Michael