My last few blogs have mostly been reviews so I think it's about time I had an update on what has been going on with the shop and I.
Fargo Village
has finally started. It has been on the drawing board for quite some time now and it's a relief to see a digger actually on site. It has begun. I was getting a little worried it might be quite some time before the doors are open, but now, since the start of October, it's a go!
OK, so it may still be a while yet, but hopefully if the winter is kind and I cross all fingers and toes I could open mid next year. That's probably the best case scenario. It is such a large project with several spaces being developed for all the new businesses occupying the village. My building is one of the first to be worked on. The question that needs to be discussed a little further is does Fargo Village, and my shop in particular (along with those in the same complex) open when our part is complete, or do we wait until all other areas are complete? I am firmly in the 'I WANT MY SHOP OPEN NOW!' camp. Whilst the building is complete, and the area around safe and fenced off, why wouldn't I want to start getting people in the shop? Those I've spoken to have the same feelings too. The people at Fargo, both tenants and project managers are very keen to do it right, and are open to many ideas so I can't see it being too much of a problem (famous last words?!).
Last night was the second FarGo Village tenants meeting held at
The Tin
in Coventry's canal basin. It was nice to speak a little more to the other tenants and get some info about setting up as a Social Enterprise. I've never owned a business before so it's all new to me and the options are quite confusing sometimes so to have a little more detail was appreciated. Ian Harrabin, the man who's idea FarGo was, graced us with his presence and told us a little about the entire Far Gosford Street, Gosford Street area and I was stunned hearing the
history of the area
. I had absolutely no idea the importance, globally too, of Coventry. I am planning on investigating further so that I have more details to pass on to you and the shop customers, and maybe have some history events going on in the shop. I'll be wondering a little more around the area that is for sure.
At the meeting, Hannah from
Urban Coffee Co
, one of FarGo's tenants, gave us a little talk on her business and how they have grown and adapted. They only set up in 2009 in Birmingham but have already 3 stores open with FarGo being the forth. Even though I will also be selling coffee and cake, I will be along to Urban Coffee to learn more about coffee beans and to take part in their events too! It's all a happy family at FarGo! Hannah brought along Steffan from
Droplet
. Droplet is a mobile app that lets you pay without using cash or card. It's like a wallet. FarGo is being talked about using this type of payment (along with Cash and card too) as another way to be forward thinking. Droplet is new and is being used in Birmingham and areas of London. I for one am championing the design and inventive new ways that the Village hope's to take.
As well as Fargo I will be attending a few local craft fairs. Both are at Stockingford Sports and Social. The first is on October 27th and the second on 8th December. I'll have books and hopefully some homemade Christmas decorations and cards for sale, all book themed, mainly thanks to my wife Heidi.
It has been quite difficult to get the
website
getting hits as bookshops are overtaken by Amazon, not to mention other online bookshops. I started adding my stock to the website about a year ago now, and that was my day-job, with about 50-100 added daily. I added every single book I had which I see in hindsight wasn't a great way. A lot of generic books, some worn quite badly, have been added. I have looked recently at just adding those that I think are something of a find. I have a mass of sci fi and fantasy books that are not your everyday find, plus I still have about 80% of my stock to even look through. From now til Christmas I'll be streamlining the site a little with quality rather than quantity. Please take the time to have a look at the
shop website
. If there is a book you want, or a certain author then I will do my best to find it for you.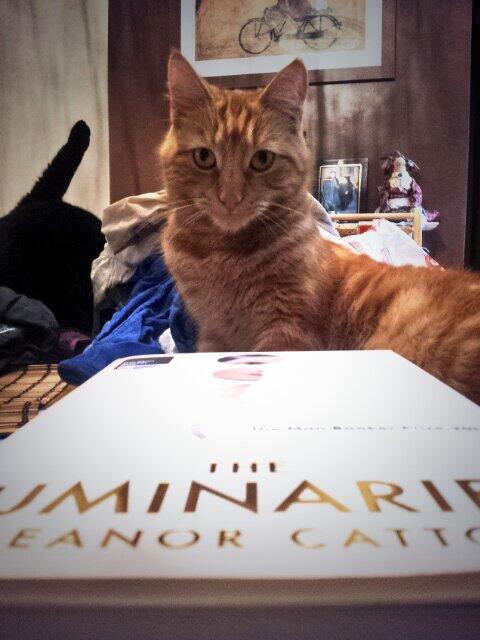 Finally it was the
Man Booker Prize
last night. I love the prize as it showcases books I would not have heard of before and gets people talking about books. In the book club I run (
join for free here
!) we picked The Luminaries by Eleanor Catton as our book of the month to read and it just so happened to have won last night! I am able to get The Luminaries at a special price of £16 with free postage so if you fancy it, please let me know.
Michael